Journeys of Heartache and Grace
Journeys of Heartache and Grace by Melody Chatelle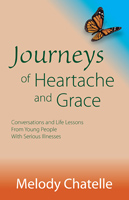 Journeys of Heartache and Grace – Conversations and Life Lessons from Young People with Serious Illnesses is a positive, practical and poignant book about a journey we will all face with our loved ones and ourselves: the ending of our lives. Melody Chatelle approaches this topic from the viewpoint of seriously ill young people who have little to hide or hold back. She hears and writes about their personal journeys, how they want to be treated, what they have to say about their own lives, and how people of all ages can deal with their own pending mortality.
Through interviews with 13 young people with serious illnesses, Melody Chatelle has drawn wise guidance from the mouths of children. Her book is a must read for caregivers, clergy, hospice professionals, medical personnel, social workers, counselors and the population at large given that all of us face times of medical uncertainty involving people of all ages in the work we do and the lives we lead.
Hardback (220 pp.), $18.95
Paperback (220 pp.), $16.95
Partial proceeds from this book will be donated to organizations benefiting children and young people in need.
"It's seldom that one reads a book that truly paints a three-dimensional picture of fragile lives of others. This is a must read for family of children with severe illnesses and caregivers alike."
—Bill M. Wooten, Ph.D., Academic Medical Center
"This book is a must read for anyone who wants to support a loved one through a serious illness. It provides straightforward answers to a difficult question: How can I help?"
—Joy H. Selak, Ph.D., Author
"If you've ever wondered what to say when someone is really sick, this book is a must read."
—The Honorable Ron Kirk, Former Texas Secretary of State and Mayor of Dallas
"I have been profoundly inspired by the courage, strength and optimism of children facing serious or terminal illnesses. Just as I have learned from them to embrace life every day, everyone reading this book will be deeply touched and moved to fully embrace the blessings of life."
—The Honorable Chet Edwards, Member, United States Congress
Melody's book was also featured in the October 2008 issue of Alcalde Magazine

"Dealing with a loved one's life-threatening illness is a dreaded task most people will eventually face. When that loved one is a young person, it becomes all the more difficult to know the right things to say and do. Melody Chatelle shares conversations and life lessons from young people with serious illnesses in this positive and practical book. She distills their viewpoints to offer practical advice on how to treat them, what to say, and what not to do. True stories and interviews make the book moving for anyone, and the suggestions make it ideal for medical personnel, clergy, hospice workers, and caregivers. Chatelle based the book on the dissertation she wrote while earning her doctorate in communication studies. She now owns and operates an Austin-based communications and advocacy consulting firm."
"...a compendium of wisdom offered from the mouths of babes and served to the reader in the form of fascinating and at times heart-wrenching vignettes."
— Bob Lively, Austin American Statesman
More About Journeys
Visit the "Journeys of Heartache and Grace"
book blog.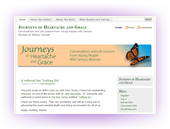 "Journeys of Heartache and Grace" was featured in the March 2009 issue of the University United Methodist Church's Quarterly Journal